Thanksgiving/Chanukah by Bike
So, this Chanukah is extra special. Chanukah and Thanksgiving happen on the same day. Yeah! What is a Jew to do? Well, this year should be extra super duper special. Why not put a menorah on a bike. If Chabad can go our there and put menorahs on their minivans why can't I bike around with one? So, for the past month I have been tempted to buy this.
We are not in the habit of doing Thanksgiving. I got married in Denmark and we lived there for a while so when Thanksgiving rolled around we tended to forget. In the US we didn't celebrate it much because when you have Shabbos the next day you really don't want to have two big meals one after another. It's a lot of work.
Then we had our first kid. At the tender age of 4 she became obsessed with Thanksgiving. She wanted mashed potatoes that year. She likes vegetables and I am not kidding. Lots of people say their kid eats veggies but this kid will seriously eat a spinach salad if it was sitting on your table. So, we made mashed potatoes and thought it was slightly disgusting. Why mash perfectly delicious whole potatoes? The next years she wanted other Thanksgiving related food, including cranberries. Last year we finally worked up the courage to make a whole turkey. So, we flipped on a YouTube video on how to make the perfect one. We plan to eat our Turkey with friends Friday night not Thursday. It was a plan concocted by this pregnant lady and hosted by another VERY pregnant lady. You can watch how we plan to make our turkey below:
So, back to the menorah idea. I know, it's an electric menorah. I plugged the idea to my family and they just look at me crazy. So, as to not to further embarrass anyone with my ideas because frankly the
Edgerunner
idea is driving them nuts. Yes,
Xtracycle
, you drive my family crazy with your delays! At this point my husband wants me to ditch the idea and just buy some pimped out other bike. I am stubborn and I do want this bike.
Back to the menorah. So, I won't drive anyone crazy by buying and electric menorah and I won't put our honking huge menorah with flames on the bike.
I might tone it down and put lights on my bike in response to the early darkness. I like the idea of putting these on my bike and they don't cost a fortune. Plus, I could take them off when I want.
So, I want to salute those brave souls who put a menorah on a bike. I looked for some and here they are and I will let you guess which was made me snort and laugh the hardest.
Pretty inventive
right? Madi from
Family Ride
is not impressed because it doesn't have flames.
How about this? Does it offend everyone who has been blinded by the blinking lights. Seriously, lights should be used not to just blind people but light up the dark road. You know that wonderful discussion on
Crosscut
and
Seattle Bike Blog
. OUCH! You blinded me with the shamas!
Then you have
Chabad
:
HELLO: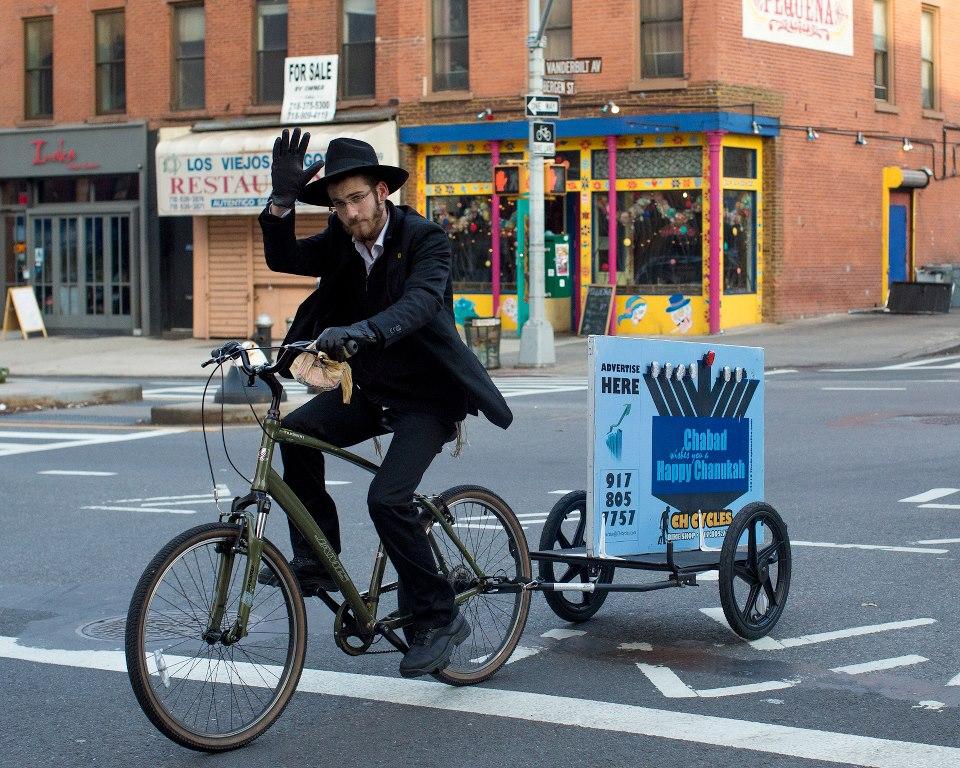 This guy has the whole getup. Don't mess with this Jew!
Okay okay, no flames. I know but Pittsburg does a whole
Bike Menorah Parade
. Why didn't I think of that?
It's the guy with the whole non-impressive front menorah! I am a little offended none of these menorah riders are women. It's hard to put an oil menorah on a bike. I mean we struggle with having ours in the house. Mr. Peyos has a history of burning some surface. He has burnt two tables in making experimental menorahs and somehow last year singed my rolling cart. While I do want to put a flaming menorah on my bike I know that's it's just tempting luck. Do, I really want to burn my bike? No, not really. So, get your olive oil, wicks and clean out the glass holders. Chanukah day 1 starts Wednesday night!